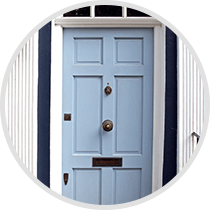 Locked out of your house.
Getting locked out of your business, home, or vehicle without access to a second pair of keys is already a terrible situation. That is why we try to make it as simple as possible to get you back into your home or car. One call is all it takes and one of our professional locksmiths will come and get you back in.
Nearly all of us have been in that same situation once, but with Bedford Lock and Key, there is no need to stress. All you need to do is pick up the phone and give us a call. We will arrive asap and we always come in a cleary lettered van so you will feel safe knowing who we are, always be weary of  "locksmiths" that show up in a unmarked passenger car.

Bedford Lock and Key is available 24/7 to be your locksmith in MA.  
We know that these accidents don't happen at the most opportune times, and for that, our team offers these services no matter what time of day. Never feel alone in these moments, and know you can always rely on a dependable lock and key business like ours.
Need immediate service, call 781-275-1597